Well, well. Looks like I am visiting the haute vallée de l'Aude again early june, mostly to hike. Was thinking of popping by Rennes-le-Chateau again and wondering if there was anything in particular anyone of you people wanted me to check out / is curious about?? Like at the church, Villa Bethania or tour magdala or anything? The church was in really bad condition on my last visit
.
Was thinking of making a short guide to all the cool locations in the area.
What I've seen so far the last three times I was in the area;
- Chateau Blanchefort ruins. Very, very tough climb, and you have to do dangerous stuff to actually reach the chateau, like climbing trees (the chateau itself actually it was only just a little watch tower). I did it two times, but think I will NOT be doing that again. Thanks, game, for making that one look so easy.
- The top of Mont Cardou. This is not such a tough climb as to Blanchefort, though much higher. Somebody built a weird kind of ritual circle there.
- Black rock (is actually way up high and you can't really reach it)
- Chateau Serres. Private property, not as beautiful to look at as in the game
- Couiza station, actually called Couiza-Montazels. You can't enter the building anymore.
- Rennes-les-Bains
- Devil's armchair
- former location of Poussin's tomb (at les Pontils, you can't reach the location, nor come close to it)
Borderline related fun locations I've visited;
- Coustaussa; ruins and Magdalen church (closed when I visited) that was the stage of a brutal murder Abbé Antoine Gélis. Sydney Map Point.
- St-Just-et-le-Bezu; Magadalen church, you can peek inside, one of the Sydney map points.
- Le Bezu; (tiny ancient church that is closed to public). Another Sydney map point.
- Ruins of Albezu near St-Just-et-le-Bezu, marked as "chateau du templiers" on de hiking maps; easy to reach and provides spectacular views
- Church in the village of Bugarach, one of the Sydney map points.
- The top of the mountain Bugarach. Beautiful walk / climb here.
- Trying to walk from Rennes-le-Chateau down towards Coustaussa through the woods below is not recommended; the maps are outdated on this area, plus there is a lot of "orange clay". Horrible orange clay. It sticks to your boots / shoes like no tomorrow, bogging you down all the way.
- church in the town of Limoux, which has a stained glass window where Jesus and Mary Magdalen are outright depicted as a couple.
- church in the town of Espéraza, a town weirdly absent in the game. It has an odd dead Jesus lying with his eyes open in a grotto. This church is actually in the center of the crown of Magdala, locations were moved around a bit for the game.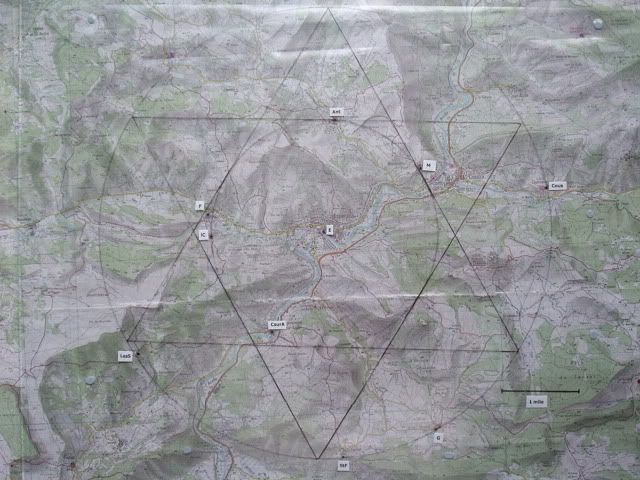 Locations that I know are kind of fictional, and probably derrived from exclusively from a map of the area;
- l'Homme Mort. There are a few places on the hiking maps that are designated as such, but there is nothing there (probably because it means 'dead land' or something); the closest one to Rennes-les-Bains is quite high up in the mountains near Rennes-les-Bains, and looks like an impassable field of thorny thickets, and there appears to be a small ruined building at the edge.
- Coume Sourdes. No finding location was ever revealed, as it was all a scam anyway.
- l'Ermitage. There is actually location called something like this near on the map where GK3 places it, but it is just a ruined little house by the side of the river.
- The hotel / bikerental. There is a large hotel in a beautiful chateau in Couiza, though that one is not as high up on a mountain as Rennes-le-Chateau. Curiously the bookshop is there.
- Rennes-le-chateau plaza; not as big as in the game. There is shabby café around the now disfunctional fountain that serves salads,. cheese and wine.