King's Quest: The Mask of Eternity Walkthrough
Back to Paradise Lost To the Sun Realm-Level 3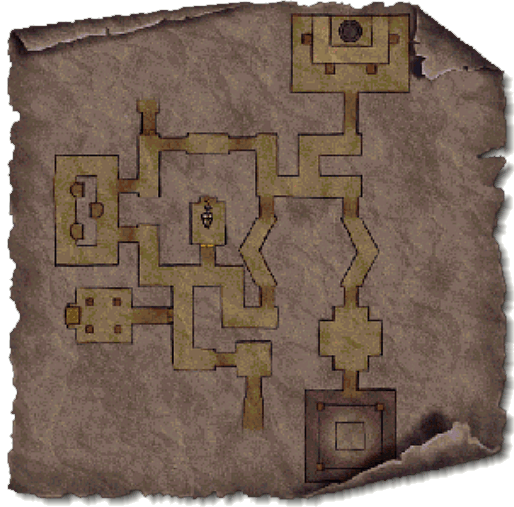 Realm of the Sun-Level 2
---
Entrance
Use tablet on the door.
Follow the passage.
The door on the left is locked.
Continue forward to wall.
Beware of three Henchmen.
Hidden Switch
Head West, North, West.
Follow the passage into a large room.
Turn North and exit the second entrance to the right.
Find the unlit candle. Enter the top right doorway.


The candle will be right in front of you.

Pull the candle to open the locked door we saw earlier.
Exit through the bottom right passage.
Hidden Room
Follow the passage.
Take the first right.
You will automatically find the fifth mask piece.
Kill the Henchman.
Cauldron Room
Head to the very NE room on the map.
Automatic scene.
Henchmen come out of the cauldron.
Use the medallion on the cauldron to turn it into healing water and stop the flow of Henchmen.
Hall of Light
Head down the hall to the South.
Approach the book on the pedestal. It's to dark to read.
Push the pedestal into the middle of the circle on the floor.
A key will appear. Take it.
Exit.
Armor of Light
Head for the locked door at the middle of the screen.
Use key to open door.
Click on suit of armor. Auto scene.
On to Level 3
---

You can help keep The Sierra Help Pages alive

by helping to defray some of the costs of hosting this site. If it has been of help to you, please consider contributing to help keep it online.

Thank you.
Top
Home | Sierra Game Help | Walkthroughs | Hints, Tips & Spoilers | Utilities | Links | Forums | Search
© 2006 to present The Sierra Help Pages. All rights reserved. All Sierra games, artwork and music © Sierra.